The tests start in the territories: 28 June at 12 PM in Tuscany
To introduce people to the system, test its functioning and gather feedback for its implementation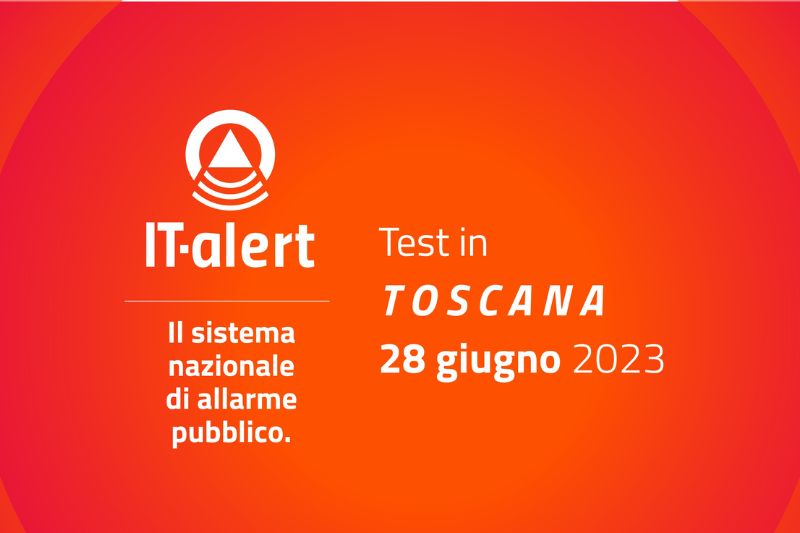 On Wednesday, 28 June 2023, around 12 noon, an IT-alert test message will arrive on the mobile phones, switched on and with a telephone connection, of people located in Tuscany and the areas adjacent to the region.
The test phase of the new national public warning system that Italy is developing, which will directly involve the population, is underway, with the aim of raising awareness of the new system, verifying its functioning in relation to the different types of mobile phones and operating systems, and gathering information from users to implement the service.
Thanks to cell-broadcast technology, which allows for sending messages to a group of geographically close phone cells, able to define an area as close as possible to that affected by the emergency. Cell-broadcast works also in cases of limited signal or saturation of the telephone band and has no effect on privacy settings.
Several limitations of cell-broadcast technology must be taken into account: it is possible that a message addressed to an area may also reach users outside that area (overshooting) or that, the message could not be delivered in areas of poor signal coverage.
The devices do not receive IT-alert messages if they are switched off or have no signal and may not ring if the ring tone is set on mute. In some cases, users with an old version of the operating system may have problems in the reception of IT-alert messages.
IT-alert is currently being tested, once operational, it will allow anyone in the area affected by the disaster to receive information on the actual or potentially dangerous situation.
IT-alert will integrate the information and communication tools already provided to reach the population: it does not replace other emergency information tools, even and especially at the local level, but rather complements them, because an inclusive communication aimed at everyone can only be a multi-channel communication.
Thanks to the work of the Civil Protection Department, the Regions and Autonomous Provinces, together with and ANCI, by the end of 2023 tests will be carried out in all the Regions and the Autonomous Provinces of Bolzano and Trento.
The calendar of dates currently scheduled after the 28 June activity in Tuscany is:
30 June in Sardinia;
5 July in Sicily;
7 July in Calabria;
10 July in Emilia-Romagna.