IT-alert tests in the territory continue: July 10 in Emilia-Romagna
Over a half a million questionnaires have been filled out. The tests in other regions and in the two Autonomous Provinces will start in September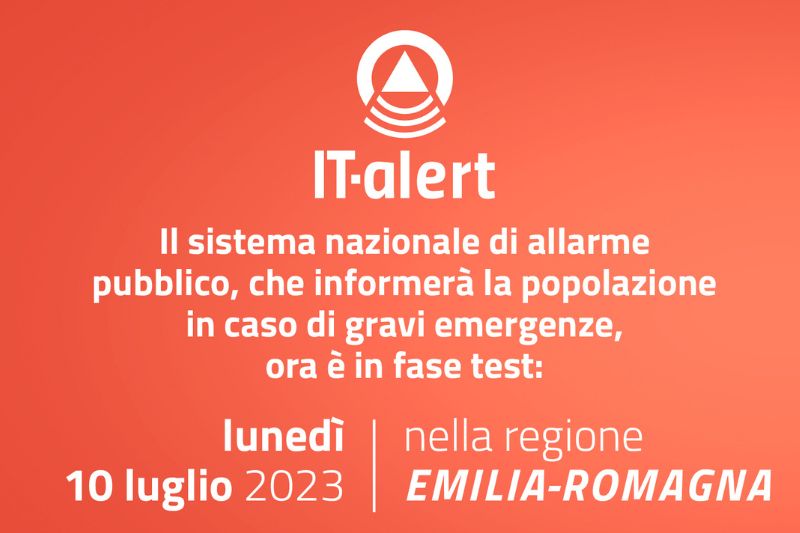 On Monday 10 July 2023, the fifth test of IT-alert, the public alert system that Italy is adopting will take place: at around 12 PM, a test message will arrive on the mobile phones, switched on and with phone connection, of people in Emilia-Romagna and neighbouring areas of the other regions. People who receive the message are not required to do anything other than answer the questionnaire that will be available on the website www.it-alert.gov.it it to report any failures and help implement the system Also, people located in the area concerned by the test at around 12 PM who do not receive any IT-alert notification will be invited to fill out the questionnaire to report it.
The test in Emilia-Romagna closes the first phase of testing of the new system, which started on June 28 in Tuscany and continued in Sardinia, Sicily and Calabria.  This activity organised by the Civil Protection Department with the regional civil protection structures to involve the population in the territories to raise awareness of the new system, to verify its functioning in relation to the different types of phone and operating systems, and to collect feedback from users to implement the service.
Thanks to the analysis of the data collected - and processed anonymously - from over half a million questionnaires completed, already in progress, in the days after the test in Emilia-Romagna it will be possible to have an initial overview of the main elements that have emerged (such as lack of reception, some malfunctions, the overshooting phenomenon), which will have to be assessed for the second test phase, which will start in September and will involve all the other Regions and the two Autonomous Provinces.